Don Wang
Orbit recomendation best Dim Sum in Costa Rica!
Authentic Chinese cuisine & Dim Sum
AUTHENTIC CHINESE CUISINE DIM SUM HONG KONG STYLE VEGETARIAN SPECIALTIES CHEF FROM CANTON, MAINLAND CHINA ENGLISH, CHINESE,SPANISH AND FRENCH SPOKEN
AN EXCELLENT ATMOSPHERE, NINE YEARS OF EXPERIENCE AND STRICT PRINCIPLES OF QUALITY AND HEALTH ON EVERY DISH WE MAKE.
San Jose, Street 11, Avenues 6 and 8, Across Lucho Barahona Teather
Phone: 223-5925 Telefax: 233-6484
e-mail: dryuan@sol.racsa.co.cr

Moderate prices!!!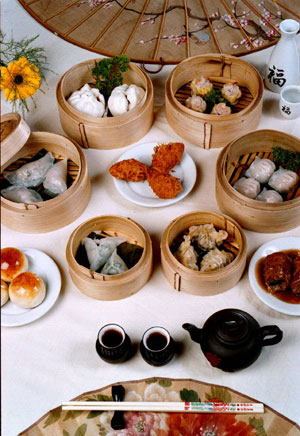 DIM SUM MENU
small dishes $1.33
fried mounds mixed filling

deep fried taro mounds mixed filling

white turnip cake with pork and shrimp

steamed dumpling pork and leeks

fragrant spring onion tortillas
deluxe steamed noodle dishes $1.50
steamed shrimps with leeks dumplings

stemaed shrimps and pork dumplings

sharks fin dumplings

stemaed pork ribs black bean sauce

steamed ox tails ginger

steamed beef watercress dumplings

steamed tofu with pork and shrimp

steamed chicken paws black bean dumplings

steamed chicken roll chinese mushrooms

steamed rice noodles with either beef, shrimp, pork
special large dishes $2.85
steamed rice noodle shrimps

steamed sticky rice mixed filling lotus

fried tofu with shrimp

stewed ox turnips rice soup with roast duck
black goose egg

pork

beef

chicken

shrimp